So it's been over two weeks since my last post. I think that's the longest I've gone without posting. I don't have much to report training wise. I have been going to the gym the past few weeks and gradually trying to increase my pace and distance. I've gotten to 7 miles/hr (8:35min/mile) on the treadmill for a long run pace of about 13 miles and i'm at about 8.3mi/hr (7:13min/mile) for a short LT run of 3 miles. I also tried a short run outside last Saturday of 3 miles and my pace was way down. I did 31 miles last week and will probably be around there this week. I still have the foot problem which I'm hoping will get better with me switching to a new pair of shoes.

I thought about getting some orthotics last weekend to try and rem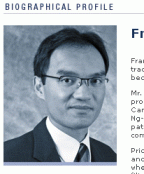 edy the foot thing, but I couldn't find a place that was open. My company finally "merged" with another on December 1 and i wanted to try and max out my previous benefits before the takeover. I guess it's my own fault for waiting until the last minute. I"m not certain if the new benefits package covers orthotics. The benefits manual says they cover one pair of custom made shoes. the previous benefits package treats shoes and orthotics differently so it's a bit unclear if the new one will cover orthotics. Here's a picture of me that was posted on the new company's website. Pretty spiffy. This was taken 4 days after I had all 4 of my wisdom teeth pulled back in August so that's why the little bit of a smirk. You should have seen the attempts at me trying to smile.

18 weeks to Boston starts next week. I was thinking of trying the 18/55 Pfitz plan again but i REALLY don't want to train during the winter after having done it for the past two. However, i guess that in order for me not to suffer during the marathon, I will have to be in some form of marathon shape. Competing interests, I suppose. I will probably start on the plan, but will skip runs if I feel like it. I will try and stick to the long run schedule though. I'm hoping that's enough to get me through it.