So this past week topped out at 40 miles. Did a little over 10 miles each on Tuesday and Friday, 6 miles on Saturday and a little over 13 miles on Sunday.

I did my long run on 13 using the 10 and 1 method which is a way of running where you run for 10 minutes and than walk for 1. I did this cause I'm thinking of being a pace bunny for the Niagara Half Marathon which is on October 26th. The pace bunnies are sponsored by the Running Room which requires that pacers use 10 and 1's. I've never done them before so before I commit, I thought I try it out on a long run. I didn't quite get the pacing right. I tried to target 8:45 pace for the running portion and than walk at a reasonable pace. According to Garmin, I did the 13.13 miles in 1:59:06, but the distance was wrong. I actually did 13.25 miles which translates into a 1:57:45 half. Too fast. It's a bit tough to monitor pace with the constant stopping and starting.

So guess what showed up in my inbox today?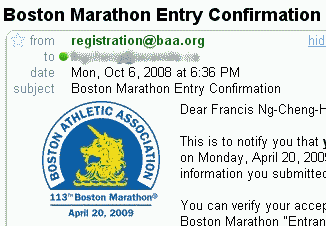 Yipee!!! I mailed in my registration for Boston almost a month ago and have been waiting for some form of acknowledgment for a while. I started to worry that maybe my entry got lost in the mail and have been checking my credit card account daily on-line for the past week to see if a charge was made. I know, pretty anal, but I got the idea from someone on the
Runner's World Forum
so at least it's not just me!